A sea full of energy: extracting power from waves

A sea full of energy: extracting power from waves
13 April 2022 @ 14:30

-

16:00

Ingresso libero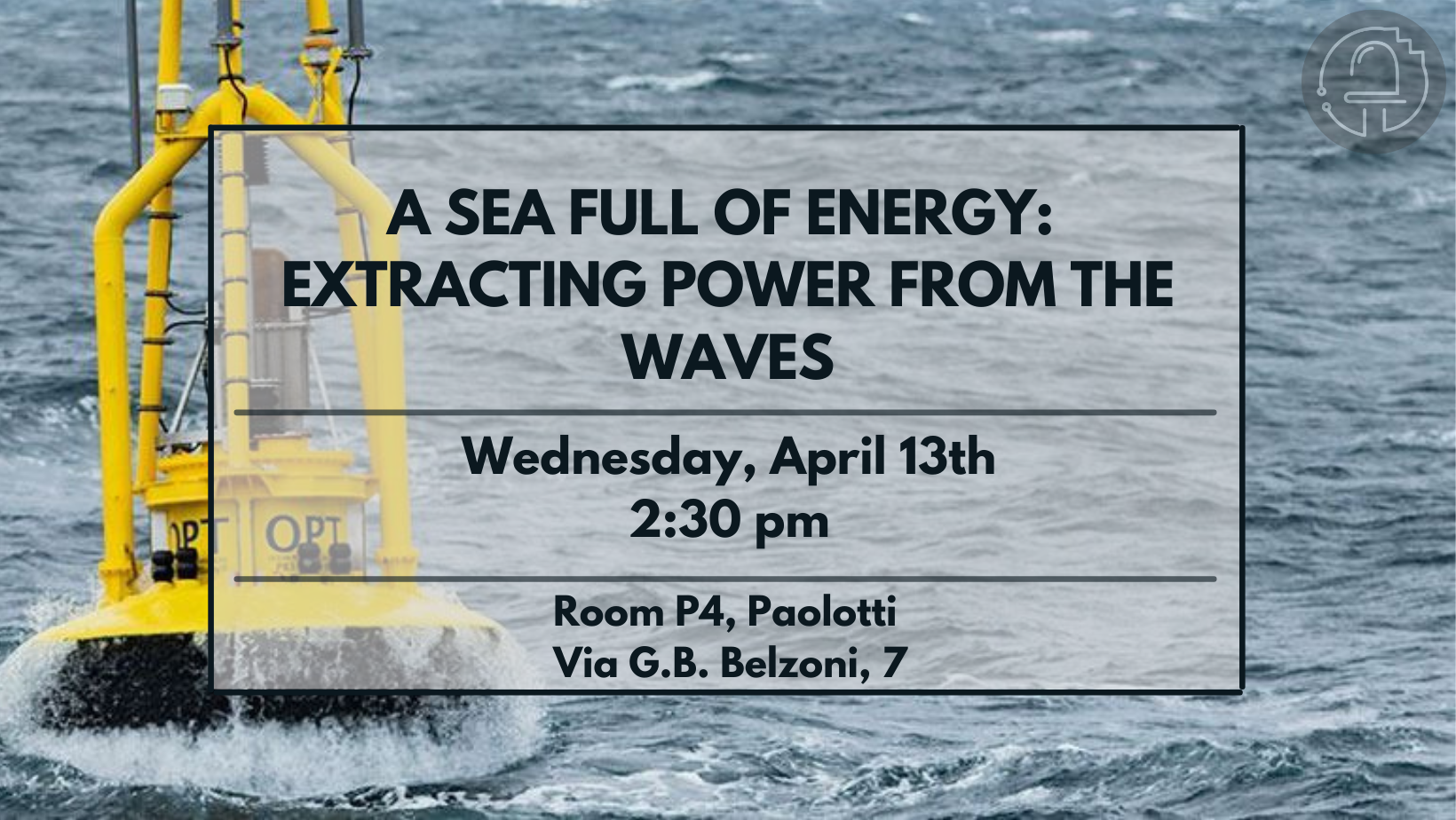 ---
Event
Climate change is one of the most pressing issues humanity has to face. A solution to this problem can be identified in the so-called energy transition. As a consequence, the latest Environmntal Action Programme (EAP) by the European Commission has set a series of extremely challenging targets to achieve carbon neutrality by 2050. To pursue those objectives, EU countries need to increase the actual share of zero-emission sources (such as renewable or nuclear technologies) in their energy mix.
Holding this in mind, LEDS is hosting a seminar to provide a general overview of the state of the art in electricity generation from wave power, a peculiar source of renewable energy often underestimated in its true potential.
After considering the availability of the wave energy in Italy and in the rest of the world, the basic principles of wave energy conversion will be explained. Finally, case studies and real-life experiences will be presented, in order to help us better understand the extent to which these technologies will be able support the energy transition.
The seminar will be held in English.
---
Speaker
Luca Martinelli is a civil engineer and associate professor at the Civil and Environmental Engineering Department of the University of Padua. His teaching activities include: Hydropower and marine renewable energy, Nearshore hydrodynamics and costal protection, and Costal Flooding Hazard.
He is the author of more than 130 scientific publications, 25 of which being peer reviewed journal papers. His main areas of research are: wave structure interaction – with particular focus on the impulsive loads applied by breaking waves; development of floating breakwaters and wave energy converters, including their mooring system; coastal flooding risk, coastal erosion and the relative mitigation measures; coastal defense, maritime structures and their physical modelling 
He  has  been  an  expert  evaluator for the Seventh European Union Framework Programme for Research and Technological Development (EC FP7), and is now expert Evaluator for the H2020 panel Excellent Science/European Research Infrastructures.
---
How to join
The conference will take place in room P4 of the Paolotti complex, (via G.B Belzoni 7).  There will also be the opportunity to follow the event online, via Zoom Meetings. The seminar will be held in English.
Zoom ID: 815 4610 0813
Passcode:

WavesLeds
---
⏳ Wednesday 13 April 2022, h 14:30 ⌛
---
Iniziativa finanziata con il contributo dell'Università di Padova sui fondi previsti per le Iniziative culturali degli studenti
---